Keywords research is the crucial starting point for creating a new website. Choosing the right keywords or key phrases is of paramount importance because this will affect the numbers of people visiting your site so it's worth spending some time doing some research on before actually creating the site and also before buying the domain. If you're like me, then this means some patience – it's worth doing this nitty gritty work first.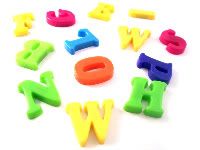 Here are some tips for how to choose good keywords:
– Brainstorm: Keywords are the search terms that people type into search engines to look for websites. So you need to think like a customer or surfer. What search terms do your potential visitors look for? Write some down, and brainstorm.
– Google Keyword Search Tool: Then use a tool like the free Google Keyword Search Tool to check how many people are searching for these terms per month. It tells you the monthly search volumes.
– Keyword Density: Keywords need to be used in the content of your site so choose words that you can naturally incorporate into your content. The keywords will need to be used in the content across the site – this is called keyword density. But not too much, as Google can detect this. There are several sites that will check the density of your site for free – here's one of many tools out there.
– Domain: Keywords can also determine what domain you buy. It's always good to have a keyword in the domain if possible, as your site will rank higher in the search engines (some people say this isn't true but it is, I have seen sites that aren't even that well marketed reach no 1 in Google simply because they had a good term in the domain name).
– Niche Kaywords: It is better to choose niche keywords rather than choosing very broad terms that have a lot of competition. These niche keywords would need to have enough daily searches. For example, it is better to choose 'blue sports cars' than just 'blue cars' and worse still would be 'cars' because 'cars' is too broad and therefore it will be difficult to get high in the search engines. But if you choose something that isn't searched very often, eg 'blue sports cars with leather seats' this will not bring you enough traffic!
– No of Searches: As a guideline: 500 – 1000 min. searches per day, and 150,000 competitor sites is ideal for a niche keyword.
– No of Words In A Keyword Phrase: As for how many words you should have in a keyword phrase, key phrases with 2-3 keywords max are best. Any more and it will probably be far too niche, ie not enough searches.
– Use The Keywords! If you do article marketing, make sure you put keywords in the title, and first line of the article. This can make a big difference. Basically you want to be using your well-researched keywords across all your internet marketing activities: For eg: on-page SEO (titles, descriptions, content), off-page SEO (backlinking – use the keyword as the anchor text), in titles for articles, videos, signatures in posts.
– Keep A List: It is a good idea to keep a list of keywords with numbers of searches and competition. This is valuable information you will refer to and add to as you go on.
Keyword Blueprint:
Keyword research can be quite time-consuming. I use a tool called Keyword Blueprint, which does all the hard work. You enter a keyword and it tells you if it is a viable keyword term. You can select the territory (eg UK only) and also search for PPC terms, rather than SEO. It comes as a bundle of invaluable programs, not just the keyword tool: build unlimited ecommerce sites, research niches, submit articles to directories and spin them. It's a one-off fee for life, no further payments. Plus the Forum has a bunch of really helpful folk.
My keyword knowledge has been learnt through running my own blogs, and networking and ecommerce sites. If you have a question, feel free to ask, I'll do my best to answer.
Reena Gagneja is a qualified
Soul Plan Reader
and Spiritual Counsellor. She enjoys blogging about natural and alternative health and spiritual and holistic topics.
Buy her eBook
The Alkaline Diet Guidebook
and improve your health and wellbeing.